Cement Industry at a glance
Cement is an indispensable building material of modern times and is the second most consumed commodity after water. India is the second largest cement manufacturing country in the world and is known for its prowess in energy and resource efficient cement production.
The Indian Cement Industry has established itself as a global leader in environmental and socially responsible manufacturing. It is largely by virtue of efforts put in place by the core sectors such as cement that India is well on track in meeting its Nationally Determined Contributions (NDCs) targets and staying compliant with the Paris Agreement pledge.
The Indian Cement Industry is a frontrunner in the mission for change and has been implementing significant technological measures to ensure a greener future for the Country and the society. It is the only sector to have voluntarily devised a Low Carbon Technology Roadmap aimed at reducing its direct CO2 emission intensity by 45% till 2050 from a 2010 baseline. Over the years, the Indian Cement Industry has nurtured blended types of cement to the extent of 73% in 2017 compared to 28% in 1992, which again highights the remarkable contribution being made by the Cement Industry in the transition towards the green growth of the sector.
Green Growth Drivers
The Indian Cement sector in the course of its growth and expansion has always relied on the Best Available Technology (BAT) and process setups to stay most efficient and sustainable. Several Indian Cement companies have been performing research and development on over-the-horizon green technology/products to stay ahead and achieve techno-economic viability at scale. Figure illustrates decarbonisation levers adopted by the Indian cement companies to reduce energy as well as process related greenhouse gases emission.
Decarbonisation levers adopted across the cement manufacturing value chain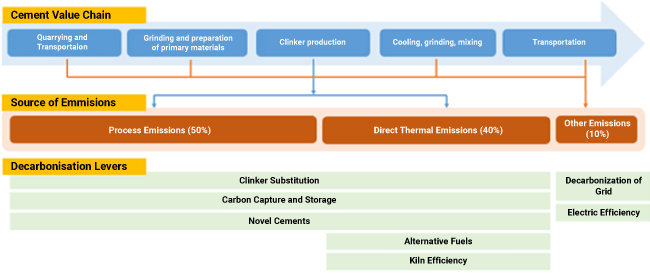 Energy Efficiency (comprises kiln efficiency and electric efficiency)
Over 44% of India's presently installed cement manufacturing capacity has been set up over the last decade only. The Indian cement companies have demonstrated responsible business and future looking vision with the adoption of Best Available Technology (BAT). Table compares the performance of the Indian Cement Industry with its global peers in terms of thermal and electrical Specific Energy Consumption (SEC). This itself suggests that India is driving the global transition towards energy efficient cement manufacturing in the sector.
Thermal and electrical specific energy consumption
| Parameter | Unit | Global Top 10%1 | Global Average3 | India2 |
| --- | --- | --- | --- | --- |
| Thermal SEC | GJ/t clinker | 3.0 | 3.5 | 3.1 |
| Electric SEC | kWh/t cement | 85 | 104 | 76.6 |
From Conventional to Alternative Fuels
Cement making is an energy intensive process predominantly reliant on conventional fuels. The Indian Cement Industry has successfully managed to substitute 4% of its fuel needs with alternative fuels derived after segregation, treatment and processing of municipal and industrial waste. These pre-processing steps are necessary to make waste amenable to be utilised as fuel. The share of alternative fuels has gradually grown from 0.6% in 2010 to 4% in 2017.3 Considering the size of the Indian Cement Industry, this 4% fuel switch lends India third rank on a globally comparative scale.4
Undoubtedly, there is a definite potential to grow this fuel switch share further. It is however, highly dependent on the quantum of production; a seamless logistics network; capacity building of Urban Local Bodies (ULBs); implementation of Polluter Pays Principle; and active promotion of circular economy systems.
Clinker Substitution
Similar to alternative fuels, the Indian Cement Industry has led the transition to green products by way of making blended cement using alternative raw materials. This has resulted in a substantial cut down in the requirement of intermediate product clinker made up of natural limestone and other constituents, which in turn substantially contribute to the conservation of precious minerals in the Country. The quantum of clinker that can be substituted in the final cement product depends largely on the characteristics of the alternative raw material and the end use of cement. The International Energy Agency (IEA) estimates that around 3.7 GJ energy and 0.83 tonnes of CO2 can be saved per tonne of clinker displaced.5 Indian cement companies have been successfully able to deliver almost 73% of their products in the form of blended cement.
Production of cement varieties in India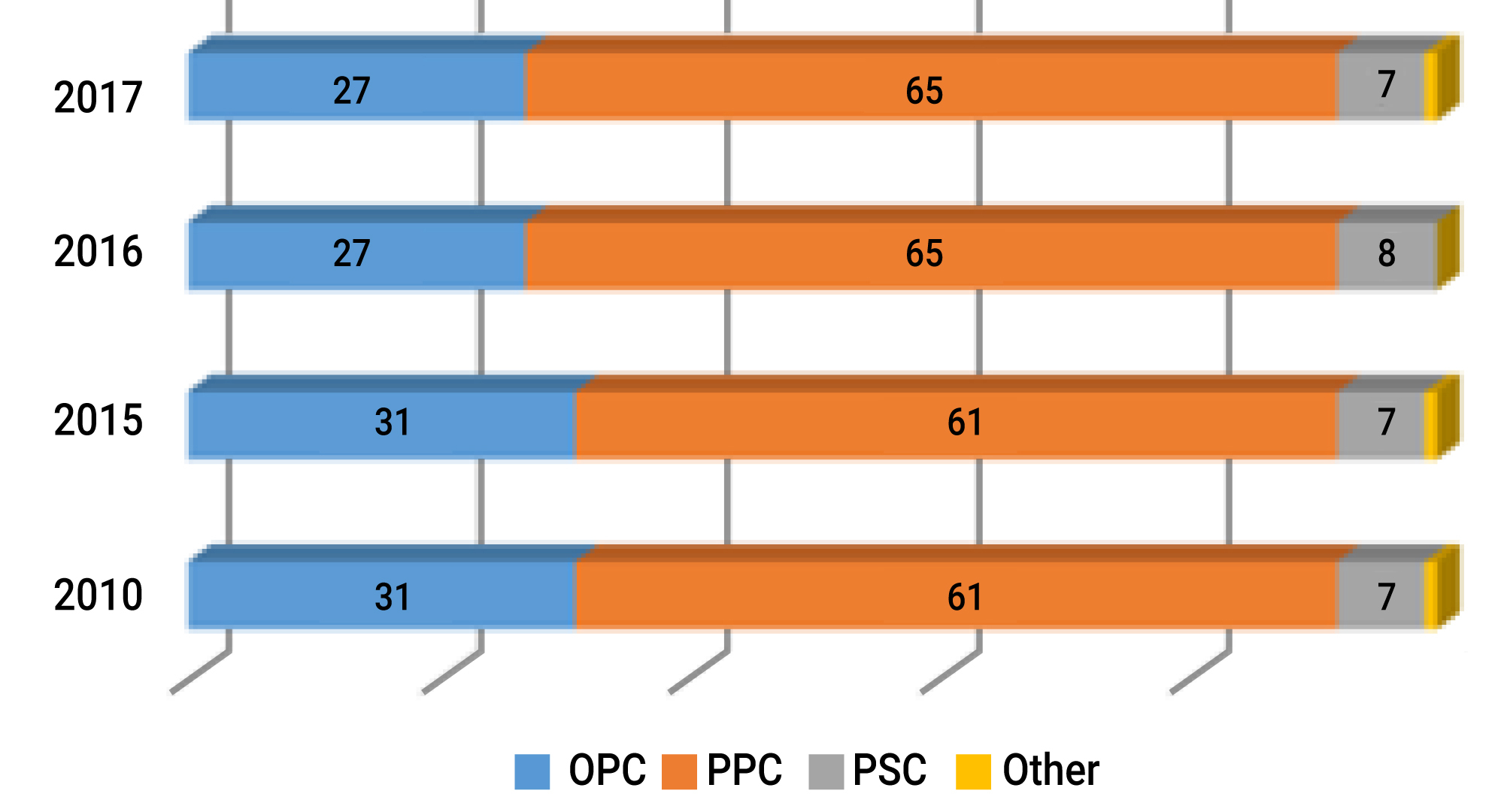 Figure illustrates a variety wise change in cement production profile since 2010, which has been made possible by the Indian Cement Indsutry with the requisite policy support provided from time to time Given that the increased production of blended cements can immensely contribute to mitigitaing environmental hazards created by say municipal waste, legacy waste dumps of fly ash, slag, red mud and the like, it would be beneficial that this subject receives growing policy support by way of recognition of the 'Polluter Pays Principle' and other necessary enablers For a complete transition, it is equally important to sensitise consumers and build their understanding of the durability and reliability aspects of the blended cement types. Table showcases that Indian cement companies are at par with the global best companies with a comparable clinker to cement ratio.
Clinker to cement ratio
| Parameter | Unit | Global Top 10%6 | Global Average3 | India7 |
| --- | --- | --- | --- | --- |
| Clinker to Cement Ratio | % | 65% | 75% | 69.5% |
Novel Cement
A wide range of Novel cement types, specifically having lesser dependency on limestone/clinker and with process modifications, are globally in the research and development stage. Figure highlights the various type of novel cement and associated potential to reduce the process emissions.
Novel cements and corresponding potential of reduce process emissions8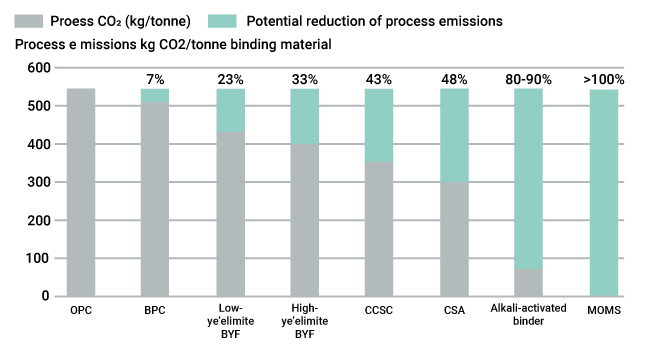 Significant barriers to the adoption of novel cement include availability of the required raw materials; intellectual property rights; and the general perception in the construction industry and consumers that a new cement product is relatively expensive, non reliable and difficult to use. While extensive research on novel cement is being implemented globally, the lever remains an over the horizon alternative.
Future Outlook
The Indian Cement companies are suitably leveraging all three levers (a) energy efficiency (b) clinker substitution and (c) decarbonisation of the grid, to realise sustainable development. A further scaling up would encourage the adoption of innovative products and process modifications. A holistic understanding and a policy framework that can ably attend to the sustained economic viability constraints would be imperative to support future transitions.