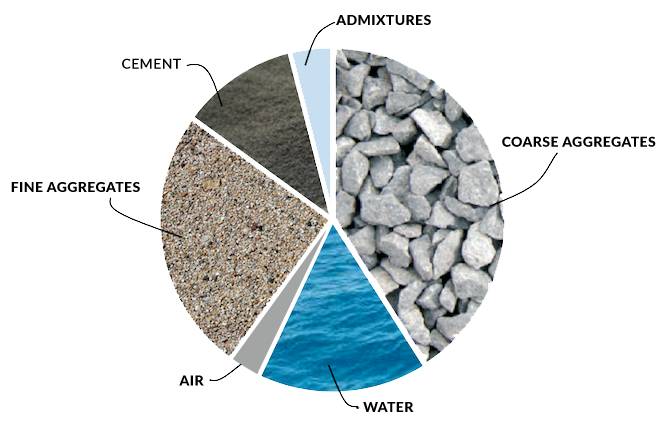 The ratio of input materials for making concrete
The process of measuring the materials for preparing different grades of concrete is called batching. Batching can either be volume batching, where materials are mixed as per their required volumes, or weight batching where materials are mixed as per their self weight ratio. As per IS 456:2000, weight batching is the preferred method and volume batching is to be allowed only where weight batching is not possible and bulk densities of the input materials have already been established previously.
The grade of cement is ascertained to calculate the amount of cement, sand and aggregate materials required for volume batching or weight batching. 3 The grade of concrete is determined by its constituent materials and the minimum strength it would have achieved after 28 days of initial construction. As per IS 456:2000 (fourth revision), concrete can be classified as ordinary concrete, standard concrete and high strength concrete. Table 1 illustrates various grades of concrete and associated determinants in terms of (a) ratio of cement, sand and aggregates in them, and (b) Compressive Strength on a 28 day basis.
The grades of concrete defined in the table of grade wise mix, are the standards grades of concrete. For allotting a designation to concrete, "M" refers to the mix and the number is the compressive strength of 150 mm size cube at 28 days, expressed in N/mm2. For example, standard concrete M50 would have a compressive strength of 50 N/mm2 at the end of 28 days. For concrete of compressive strength greater than M55, the design parameters are difficult to standardise and can be obtained from specialised literature and experimental results. As per the guidelines specified under the standard IS456:2000, the measuring equipment shall have an accuracy of ±2% for cement and ±3% for aggregates, admixtures and other materials being used.
Grade wise mix ratio and 28 days strength of Concrete
For making higher grades of concrete, the engineer varies the proportion of the input materials as per the design mix of the structure. The concrete grades can go as high as M80 which provides a 28 days strength of 80 N/mm2 which is quite high. The strength provided by this grade of concrete can be ascertained from the fact that generally for making sensitive infrastructure such as bridges, compressive strengths in the range of 34 to 41 N/mm2are recommended. Concrete up to grade M25 is generally used for small scale construction. For larger structures generally grade M30 and above are used.
For the making of concrete, the volume of input, materials required is generally measured as dry volume. As a thumb rule for calculating the dry volume, the wet volume is multiplied by 1.54. To make 1 cubic metre of wet volume of concrete, the quantity of the input materials will vary as per the grade of concrete being manufactured. For instance, to manufacture 1 cubic metre wet volume of M15 grade of concrete, we would need 0.22 cubic metres (316.8 kg) of cement, 0.44 cubic metres (660 kg) of sand and 0.88 cubic metres (1,320 kg) of sand.